Overall, edibles last for approx 5 hours.
You'll peak 2 hours after ingesting to 4 hours after ingesting.
You'll start to feel mostly normal after 5-6 hours after you ingested. Though, with doses above 20mg you may feel high for longer. So if you're wondering how long an edibles high lasts, there's your answer.
In summary: Edibles can last for 4-10 hours, with after effects lasting for another 6-12 hours.1
Edibles Duration of Effects
| Phase | Time12 |
| --- | --- |
| Total | 4 - 10 hours |
| Onset | 30 - 120 minutes |
| Peak | 2 - 5 hours |
| After effects | 6 - 12 hours |
A graph from a 1980 research paper showing how long you'll stay high for: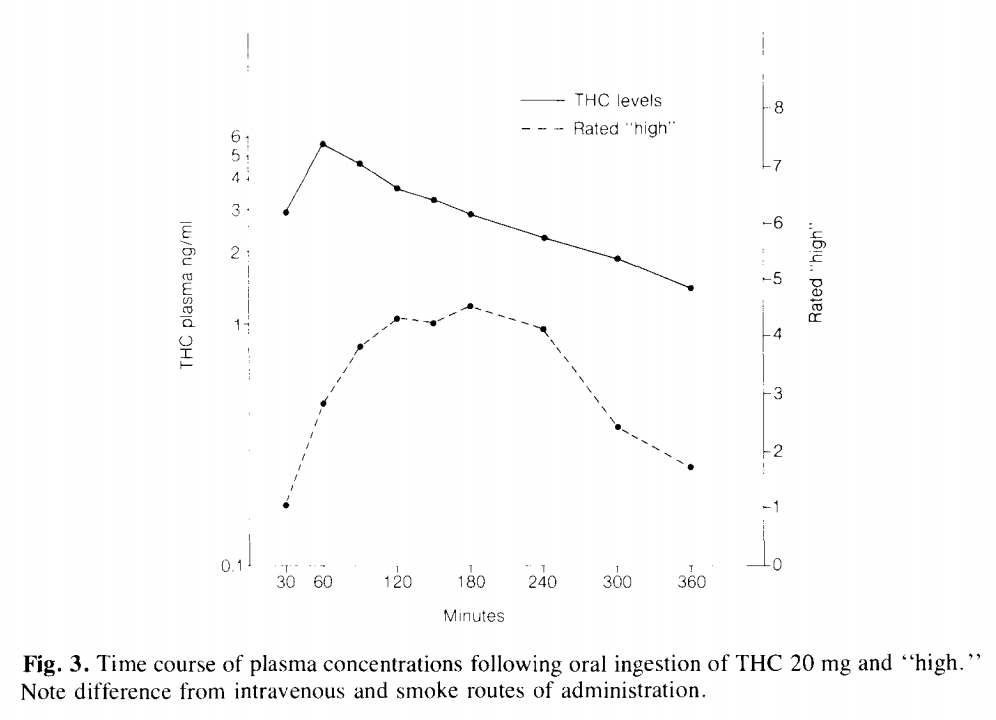 In this experiment, participants still felt a little bit high after 6 hours, though not close to peak levels.2
If you think you took too much: Tell a friend to read the "bad trip" guide and help you
Symptoms of a moderate to intense high (doesn't necessarily mean you took too much):
Increased (and more noticable) heart rate
Dry mouth
Paranoia / anxiety
No-one has ever died from overdosing on marijuana.3
If you have paranoia/anxiety and want to reduce it, try any of the following:
Remember, the main effect of taking too much is just paranoia. Thousands of people take too much weed each year, they feel really uncomfortable for up to ~12 hours, and then they all feel fine again.
Guide to help someone having a bad trip (including if you've eaten too much edible weed).
References